Berlin, June 11th, 2013
Real-Time Ethernet with 10 Gbit/s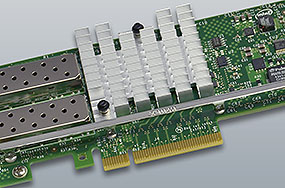 As announced earlier this year, we now support most of the network controllers from Intel with 10 Gbit/s with our RealTime-Ethernet drivers.
Our Packet Module now includes real-time drivers for the Ethernet controller series from Intel and RealTek to allow short reaction times and high throughput. Almost all Fast and Gigabyte Ethernet NIC's of named vendors are supported. If you require extremely fast computer linking or the highest data throughput, 10 Gbit/s might be the perfect solution.
With our reference system, using 2 channels to send and receive in full duplex mode at the same time, 99.8 percent of the theoretically possible data throughput could be achieved – approximately 1.248 Gbyte/s.
Upon request we offer assistance in selecting the proper hardware.