Berlin, March 18th, 2015
Kithara Software Again Honored with Innovation Award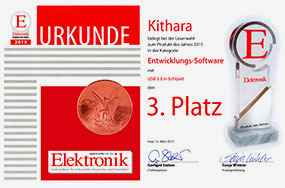 As last year, Kithara is among the 111 most innovative, excellent and trendsetting products of 2014. The real-time USB3 Vision extension of the »RealTime Suite« took place 3 in the category "Development Software", voted by the readership of the journal Elektronik.
For the 17th time now, readers of the technical journal Elektronik as well as the corresponding website elektroniknet.de have picked the products of the year in categories such as development software, automation, embedded design and automotive.
The award for the USB3 Vision module is a great appreciation, even though it does not come as a surprise. USB3 Vision in real-time includes two of the most promising and relevant topics in camera-based automation. The newest interface standard USB3 Vision, with its extremely cost-efficient and interchangeable hardware as well as relatively high data rates, demonstrates a significant change in machine vision towards a universal applicability in nearly all industrial fields. Real-time capabilities, on the other hand, represent a basic requirement for an increasing number of solutions. It is implemented in order to significantly raise throughput efficiency or to reduce the failure rate during the image capture of workpieces to a minimum.