Berlin, April 1st, 2018
Free audio upgrade for DOS Enabler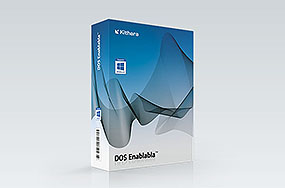 With the latest upgrade for Kithara DOS Enabler, Kithara achieved a great technological breakthrough. Until now, the application was only utilized to execute 16-bit programs in real-time on 32-bit or 64-bit Windows. However, the upcoming new version goes even further.
It upgrades the application with a variety of audio functions such as voice input and output as well as music playback in studio quality. Thanks to mathematical algorithms based on the fourier frequency transformation, audio parameters are freely selectable. The system supports 24-bit frequencies at sampling rates of up to 96 kilohertz. What is more, due to the generally fully automatic post-processing of all audio signals, it is possible to transform the rather rudimentary beeping 8-bit sounds of old DOS games such as Pac-Man or Sim City into crystal clear ambient-sound-optimized orchestra quality. Of course, all audio functions are fully compatible with Sound Blaster 16.
However, the most impressive innovation surely are the groundbreaking voice functions. These allow for all commands to be controlled directly via voice input while the Kithara application comments on any relevant processes and messages in a calm chatting voice.
The upgrade goes by the fitting designation "Kithara DOS Enablabla" and will be available on Wednesday for all customers in the download area.
Update: Unfortunately, we have to announce that the free audio update for Kithara DOS Enabler, which was revealed last Sunday, will not be available for download today after all. Extensive tests have shown that the new version is not quite fully functional due to a single yet crucial error—it will only work on a specific day of the year, April 1. Our developers, however, are already working hard on a solution for this issue. Once we have more news about this topic, we will announce it as soon as possible, most likely in about a year on April 1, 2019.