Berlin, June 25th, 2014
GigE Vision with 10 Gbit/s
Image Capturing with 10 Gigabit/s including Camera Link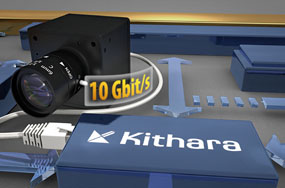 Kithara Software, specialist in the field of real-time for Windows, has successfully completed the development of a software solution for 10 Gbit Ethernet cameras. The support of GigE Vision® ­­in real-time allows for deterministic image capturing with high data rates, especially for the areas of quality assurance, material transport or robotics.
Based on the real-time Ethernet drivers for 10 gigabit network controllers, developed by Kithara, data captured by cameras with accordingly high transfer rates can now be processed in a matter of a few microseconds. In the context of applications with high-precision and time-critical requirements, such as manufacturing lines, the real-time capability is indispensable.
Uwe Jesgarz, managing director of Kithara Software GmbH, explains the general functionality: "The enhanced memory buffering is extremely reliable in preventing packet loss, whereas the response time to incoming GigE Vision images in Kithara RealTime Suite happens within a few microseconds."
An interface-standard in the field of image processing, GigE Vision® (Gigabit Ethernet for Machine Vision) greatly benefits from the popular advantages of Ethernet, such as the use of cost-efficient and standardized hardware, high and flexible data rates as well as extensive cable range. As an IEEE standard, GigE Vision enables the utilization of various different cameras from a diversity of manufacturers, tailored to individual needs.
Even further, cameras with "Camera Link" interface can be integrated into the Kithara real-time environment. For the first time, it is possible to capture and process image data from "Camera Link". This is done using the external frame grabber "iPORT CL-Ten" from Pleora, which converts the "Camera Link" image data and provides them over a 10 gigabit/s Ethernet link in real-time, compatible with all CL configurations such as Base, Medium and Full (up to 6.8 gigabit/s). In addition to the real-time capability, the maximum cable distance can be extended from 10 meters to up to 10 kilometers by means of long-range glass fiber.
Files