Berlin, July 24th, 2019
Kithara at the All About Automation in Leipzig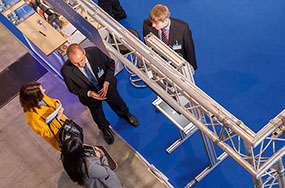 Kithara Software will be exhibiting at this year's All About Automation in Leipzig from September 11 to 12. The focus areas of the trade show, system solutions, components, software as well as engineering for industrial automation and industrial communication, are also some of the main fields of application of the Kithara real-time system.
At booth C-108, Kithara will present the latest developments for software-based real-time solutions. Emphasis will be especially on functions of Kithara RealTime Suite for automation with EtherCAT, real-time image capturing and image processing as well as connection with automotive interfaces. At the Kithara booth, visitors are offered visual demonstrations of the real-time system as well as comprehensive information and personal consultation for individual solutions.
"A regional exhibition such as the All About Automation is a great opportunity for us to have extensive talks with regional experts. Due to the heavy specialization on automation, public interaction for us is usually of particularly high quality there. Visitors are quick to realize how the real-time solutions of Kithara RealTime Suite can be optimally applied to their projects to get the most benefits out of it", Uwe Jesgarz, managing director of Kithara Software GmbH, explained.
The exhibition for industrial automation in the trade fair city of Leipzig appeals especially to local participants. Here, manufacturers, distributors and service providers meet users and operators from Central Germany. Industry-specific experts are given the opportunity to discover custom solutions that are exclusively centered around the field of automation.
People interested in visiting can contact info@kithara.com directly in order to receive free entry tickets.
Files