Berlin, March 31st, 2022
100 Gigabit Ethernet in Real Time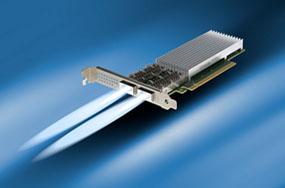 Kithara Software, specialist for industrial real-time software, has announced support for 100 Gigabit Ethernet. Starting with version 11.02 of the real-time operating system Kithara RealTime Suite (KRTS), network communication with data rates of up to 100 gigabits per second can be implemented.
KRTS now allows PCIe network cards with the Ethernet controller E810 by Intel to be used in a real-time context. Building on the previous support for 40 Gigabit Ethernet, whose hardware interface has a similar base structure, the 100 Gigabit mark has now been reached as well.
"The implementation of new Ethernet technologies is a continuous development process for us, since many solutions of our real-time system are based on Ethernet and thus represent an essential pillar of the company. Furthermore, 100 Gigabit Ethernet is a crucial milestone, as demand for high data rates in industrial and research applications increases as well", explained Uwe Jesgarz, managing director of Kithara Software.
Real-time support for 100 Gigabit Ethernet, compared to 40 Gigabit Ethernet, also differs in the utilized type of QSFP (quad small form-factor pluggable), the optical transceiver modules.
Whereas 40 Gigabit Ethernet support uses the QSFP+ transceiver (4×10 Gbit/s), 100 Gigabit Ethernet employs the QSFP28 variant, which manages to get achieve up to 100 Gbit/s with four lanes of 25 Gbit/s each. Alternatively, QSFP28 ports can also be split into four independent 25 Gbit/s connections by using fanout cables.
Files