Berlin, March 28th, 2013
Image Capture and Processing in Real-Time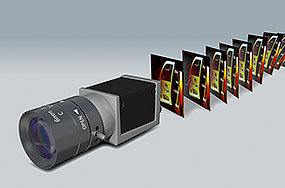 Within the »RealTime Suite« the real-time network drivers have been the basis for our real-time acquisition via GigE Vision® standard for years.
The new question is how to process captured image data in the same real-time context. Previously it was possible to use own image processing algorithms in order to export the result of the image analysis to the process, for example via the real-time EtherCAT®-Master of Kithara. Now, the high-performance and widely used image processing library HALCON™ of the Munich supplier MVTec can be used in real-time as well.
This way, the process chain from image acquisition, to image processing, and to process integration via I/Os and other actors is executed within a coherent real-time cycle.
The runtime of image processing algorithms depends on the specific image content, which means that no fixed runtime of the algorithm is known, if it is not explicitly determined. Nevertheless, it can be regarded real-time if:
the initiation of rendering starts only a few microseconds after the complete acquisition of the camera image,
the image processing operators are executed with the highest system priority,
the cycle acquisition, processing, and output cannot be interrupted by Windows®.
Try the latest version of the »RealTime Suite« with the Camera Module (real-time image acquisition via GigE Vision® Cameras) and the Vision Module (real-time image processing via HALCON™) now! If you export the result in real-time via EtherCAT to your process, you are able to create powerful applications for optical high-speed quality assurance. The cost-efficiency is also superior by using a PC with the Windows real-time extension instead of expensive specialized hardware solutions.
Links