Berlin, November 5th, 2013
EAP - EtherCAT for the control level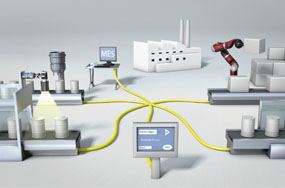 Kithara's EAP extension for the EtherCAT Module is out now! The abbreviation EAP stands for "EtherCAT Automation Protocol". This is an extension of the EtherCAT standard to upgrade the fieldbus network EtherCAT to a plant automation network.
Several computers can be connected and can cyclically exchange data in milliseconds of time. Multiple mailbox protocols can be used, such as CANopen-over-EtherCAT(CoE), File-over-EtherCAT(FoE) as well as the process data exchange (PDO).
Instead of master and slave objects, so-called EAP nodes can be connected with each other, and process data objects (PDOs) can be created for each node. The new EAP nodes are integrated into the programming interface seamlessly as they are usable with the same functions already existing for master/slave objects.
Several computers can be connected with at present 10 Gbit/s via fiber optics, copper cable, wireless or the world wide web. A wireless connection can be useful if a cable connection is not possible, e.g. for storage rack sorting systems. For monitoring purposes an internet connection is imaginable. A laptop could be attached to the system for maintenance or the system could be connected to the company computer network.
Test the new version of Kithara RealTime Suite with the EAP extension and bring EtherCAT to the control level.