Berlin, May 4th, 2023
Kithara RealTime Suite: Module consolidation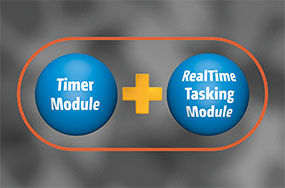 The numerous functions of Kithara RealTime Suite are spread over different combinable modules. In order to improve transparency of the product range for customers, starting with version 11.13, the following modules will be merged:
Clock and Timer become Timer Module
The Clock Module is used to determine system time and short time delays by providing a calibrated access to every hardware timebase in the system. The former Timer Module allows for the creation of simple timers in millisecond resolution based on Windows-mechanisms. Going forward, both functions will be combined in the Timer Module, due to the fact that 99 percent of users utilize both modules in tandem anyway.
RealTime and MultiTasking become RealTime Tasking Module
The RealTime Module enables the development of high-frequency real-time timer routines, and as such represents the basis for real-time capability. However, since the programming of high-performance stable real-time functions also requires the mutual prioritization of individual real-time tasks, the RealTime Module and the MultiTasking Module will be merged into the brand-new RealTime Tasking Module. This way, a single module will provide priority-based, preemptive real-time multitasking with 255 priority levels.
What will change for customers?
This is the best part: There are only benefits for customers. All functions of the old modules will remain completely intact and there will be fewer modules that have to be acquired as well as managed. Additionally, fewer modules also means possible support cases can be solved more quickly. Further consolidations of modules are already being evaluated.