The new Kithara »DOS Enabler«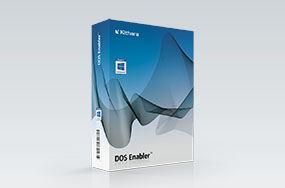 很快到来:在32/64位Windows系统中的16位实时程序
"DOS Enabler"实现硬件独立的DOS程序好多年了。新的"DOS Enabler"也支持32位或64位的Windows7、8/8.1。
注意:编写硬件独立的且时序严格的32位和64位应用程序,参看»RealTime Suite«
新的"DOS Enabler"允许硬件独立的DOS程序工作在Window 7,8/8.1下。32位和64位的系统都能被支持。新的"DOS Enabler"有他自己的DOS系统(FreeDOS),他能在单独的CPU内核下运行16位应用程序。通过消除所有Windows的影响,编写时序严格的应该程序是能实现的。
The program execution including hardware access to I/O registers and physical memory as well as the handling of interrupts is done in real-time.
与之前类似,只是运行速度是之前的1000倍!
新的"DOS Enabler"的特性
Usage of a separate CPU core without being interrupted by the Windows multi-tasking
使用独立的CPU内核,使不受Windows的多任务影响。
充分配置DOS程序的处理能力,所以对时序要求严格的例程能没有限制的运行。
直接且无延时的访问物理I/O寄存器(无仿真)
直接访问从C000:0000 到 FFFF:FFFF的物理内存。
Handling of hardware interrupts
16位应用程序可在Windows7/8/XP和嵌入式7/8/XP下运行。(对于64位也是)
No virtualization environment necessary!
能重新定位其他端口,例如USB端口、PCMCIA卡、PCI卡、虚拟COM端口
用于防止丢失数据的智能缓冲区
New with Version 9.61
DOS applications are able to access separate drives such as USB sticks (FAT and FAT 32 are supported)
new command line option allows for the automatic startup of the DOS Enabler including a DOS program, e.g. for the starting via desktop icon or autorun registry entry
on the DOS side a batch can be used to close the DOS Enabler or to shut down the PC
improved real-time performance
Technical Requirements
The following requirements must be met to run the »DOS Enabler«:
Operating system Windows 7/8/8.1/10 (Windows XP not supported)
appr. 600 MB free space on hard disk
Under Windows 7: minimum dual-core processor (quad-core or higher recommended)
Unter Windows 8/8.1/10: minimum quad-core processor
Single-core PCs are not supported
For questions regarding technical support please consult us!
Download Trial Version now!
We recommend the following steps:
更多信息
想得到更多有关"DOS Enabler"信息和新闻,请订阅我们的新闻。