Kithara EtherCAT Master - RealTime EtherCAT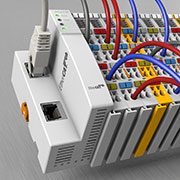 PC-supported automation based on high-performance fieldbus and industrial Ethernet protocols. One of the most powerful and prevailing system is EtherCAT®:
Contemporary Ethernet based automation protocol ("Industrial Ethernet"), 100 Mbit/s Ethernet
Supports ring, star and bus topologies
Circulating data packets for rapid update of the nominal-actual comparison
Quick exchange of process data via PDO
Complex service data exchange via SDO
EtherCAT® Real-time Automation for Windows
The modular Kithara »RealTime Suite« provides a high-performance EtherCAT Master in order to implement complex automation tasks by PC and by little development effort:
High data throughput (e.g. several thousands of I/Os updatable with several kilohertz)
Short cycle time (>= 50 µs)
Most suitable for factory automation
I/O terminals, servo amplifier or safety solutions of different manufacturers
Based on high-frequency and periodically Realt-time timer (time equidistant)
Supports all current Windows OS, 32-bit as well as 64-bit versions
According to a survey of BPA Consulting concerning the international market share of industrial Ethernet systems between 2008 and 2010, the EtherCAT is the most used protocol for "hard" real-time tasks. However, even without time-critical data-processing the industrial Ethernet protocol, which was originally developed by the company Beckhoff is more in demand than ever. In the conclusion the EtherCAT achieved a market share of 10% and was ranked at the 4th position below Ethernet/IP, Profinet and Modbus TCP. The EtherCAT Technology Group expects a market share, which is almost twice as high as mentioned in the previous study.
The control software, the so-called EtherCAT Master is a SPS based "Black Box", which is a rather complex and closed system. With the Kithara EtherCAT Master open function libraries are provided and simplify the implementation in contrast to the TwinCAT solution of Beckhoff. The Kithara EtherCAT Master generally enables a much more flexible and low-cost solution.
The EtherCAT Master, which is part of the »RealTime Suite« developed by the Berlin-based company Kithara Software, is an ideal function tool for versatile automation solutions for Windows. It provides a lot of mechanisms to implement quick, low-cost, flexible, and EtherCAT based control application.
The EtherCAT Master of Kithara provides the users with the essential functions (e.g. highly-accurate timer with "hard" real-time and multi-tasking, real-time Ethernet access with 100 Mbit/s or 1 GBit/s) and further mechanisms for PC based automation and control application. Part of this mechanisms are for example redundancy, hot connect, hardware access to PCI board, USB devices, or serial interfaces. The real-time capability of the EtherCAT Master is provided by a special Windows real-time extension of the Kithara »RealTime Suite«.
An individual overview of your EtherCAT Master can be found here.
The Kithara EtherCAT Master of the modular »RealTime Suite« consist of following components:
"hard" real-time features with EtherCAT ("EtherCAT Module")
Implementation of simple PCs as EtherCAT Slaves ("EtherCAT PC Slave Module)
Real-time communication between all terminals within a network ("EtherCAT Automation Protocol)
EtherCAT Module
EtherCAT Master in real-time
The Kithara EtherCAT Master is internally based on a priority-based, preemptive real-time multi-tasking system. Through utilization of hardware parallelism by multiple CPU cores, it is possible to disseminate several real-time tasks to CPU cores. Thus, a high scalability of real-time processing up to extreme real-time at exclusively used CPU cores by the Dedicated Module is possible.
Independent EtherCAT Master
Automatic identification of EtherCAT topologies with XML files
Process data communication (cyclic I/O data exchange) in real-time
Short cycle time: up to 50 microseconds
Hot connect and cable redundancy
Based on Packet Module
Network interface from RealTek and Intel are supported
I/O terminals, servo inverter etc. of every manufacturers are supported (e.g. Beckhoff)
Modular structure of EtherCAT Masters: basis module + options
Process data communication (PDO)
Service date communication (SDO)
Mailbox communication
CANopen over EtherCAT (CoE)
Ethernet over EtherCAT (EoE)
File over EtherCAT (FoE)
Distributed Clock (DC)
EtherCAT PC Slave Module
Implementation of simple PCs as EtherCAT Slaves
Common
Features
Hardware Support
A typical EtherCAT networking solution is generally set up by installing specialized hardware, couplers and clamps without any actual graphical user interface, behind a PC-based master. The Kithara EtherCAT PC Slave Module now provides exactly this feature, allowing for a significantly higher degree of scalability. The option to utilize a PC, employing an EtherCAT interface, as a slave enables users the target-oriented and flexible conception, integration and customization of sophisticated automation processes.
Common API with EtherCAT Master and EtherCAT EAP
Process data and service data communication (PDO/SDO)
File transfer (FoE)
Creation of custom PDO mappings
SII (EEprom) data can be initialized to custom values (e.g. Vendor ID, Product ID, Revision)
Beckhoff – EtherCAT Slave devices
FC1100 - PCI EtherCAT Slave Card
FC1121 - PCIe EtherCAT Slave Card
CX5000 CCAT(Beckhoff CX50xx, CX20xx, CX51xx Embedded PCs)
ESD – EtherCAT Slave card
ECS-PCIe 1100 - PCIe EtherCAT Slave Card

This list always refers to the latest version of our software.
EtherCAT Automation Protocol
Real-time communication between all terminals within a network
The EtherCAT Automation Protocol allows for real-time communication between all terminals within a network, which achieves a whole new level of connectivity in the field of automation systems. This can be all PC-based controls, machines, testing rigs, conveyor belts, robots, facilities for quality assurance or MES (Manufacturing Execution Systems).
Transfer rate of e.g. 1000 Mbit/s or 10 Gbit/s
Process data and service data exchange (PDO/SDO), file transfer
application compatible with EtherCAT Master
Further features of the »RealTime Suite«
Ethernet communication in real-time via fast Ethernet (100 MBit/s) or gigabit Ethernet (1 GBit/s)
UDP and TCP communication in real-time
Hardware access to PCI boards or USB devices
Deployment of Windows programming interfaces for device communication (ReadFile, WriteFile, DeviceIoControl)
Arbitrary device names, e.g. for serial interfaces
Integration in Labview possible
Code execution on the kernel-level supported by C/C++ and Delphi
The software supports the following operating systems: Windows 8, Windows 7, Vista, Server 2003, XP, 2000 und NT
Your Benefits of Kithara EtherCAT Master
The EtherCAT Master is provided as a function library. Function extensions are possible at any time and modular. The developers can simply implement the EtherCAT Master in a quick way into their applications. Thus, programming languages like C/C++, Delphi or C# are directly supported and the developers can work in their ordinary programming environment. This prevents a time-consuming initial training as it is the case in complex soft SPS systems (e.g. The TwinCAT of Beckoff). Due to the provided function library the developers have a far more flexible option to perfect their application.
Our qualified Support-Team guarantees you the best possible service for integrating the software into your project and our development support assists you also in questions beyond the software!
Master Monitor for EtherCAT
The Master Monitor for EtherCAT is a graphical Windows application for visualization and management of EtherCAT topologies and already included in the basis module of the EtherCAT Master. It also serves as an EtherCAT configurator. It is possible to save the identified structure of the connected slave devices in a special XML file in order to prove the compliance automatically for eventual implemented structure. However, the file can be manually combined by single modules.
Press realeases of the EtherCAT Master can be read here.