Kithara EtherCAT Master – RealTime EtherCAT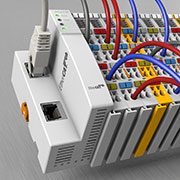 The industrial Ethernet protocoll EtherCAT® is one of the fastest industry-leading Ethernet field busses for PC-based automation:
Automation in real-time
Short cycle times at high data rates
High-performance I/O system with extremely fast reaction times
Any topologies and their combinations are applicable: Line, Tree, Ring, Star, Bus, etc.
Fast data transfer (PDO/SDO)
Efficient real-time Ethernet, highly suitable for machine and plant automation
Real-time automation with EtherCAT® under Windows®
The EtherCAT Master is part of the Kithara »RealTime Suite« and acts as a highly efficient function library to implement complex automation tasks. Its easy applications allows for low development effort and high flexibility:
Achieves "hard" real-time capabilities through accurate and high-frequency real-time timer
Cycle times of down to 50 µs
Reaction times of I/O data processing in the microsecond range
Automatic detection of the present EtherCAT topology
Fast process data and service data communication (PDO/SDO)
Mailbox communication as well as "CANopen over EtherCAT" (CoE)
Extendable with a variety of additional protocols and functions: e.g. FoE, SoE, EoE, FSoE
Supports PCs as EtherCAT slaves
EtherCAT Automation Protocol: Plant-wide real-time networking at command level with up to 10 GBit/s
With the increasing development towards industrial Ethernet systems, EtherCAT has emerged as one of the fastest and most adaptable Ethernet field busses in the industry.
The EtherCAT Master has been specifically develeped by Kithara as an industrial Ethernet control solution for Windows, allowing for reaction times in the microsecond range and data transfer rates of up to 100 MBit/s in order to implement efficient I/O systems.
All EtherCAT topologies are automatically detected and integrated. Furthermore, all familiar EtherCAT features are fully supported such as process data and service data exchange (PDO/SDO), mailbox communication as well as integration into a CANopen Master (CANopen over EtherCAT).
The EtherCAT Master has been developed as an open function library and thus enables the seamless integration of devices into the automation process. In contrast to other EtherCAT alternatives, this allows for much more flexible and cost-efficient solutions that are also significantly easier to implement.
Additionally, the EtherCAT Master can be extended with all known EtherCAT function and protocols: FoE, SoE, EoE, FSoE, hotplug-capability as well as cable redundancy. Finally, the EtherCAT Master supports PCI slave cards as well as the EtherCAT Automation Protocol for complete plant networking with up to 10 GBit/s.
The Kithara EtherCAT Master of the modular »RealTime Suite« consist of following components:
"hard" real-time features with EtherCAT ("EtherCAT Module")
Implementation of simple PCs as EtherCAT Slaves ("EtherCAT PC Slave Module)
Real-time communication between all terminals within a network ("EtherCAT Automation Protocol)
EtherCAT Module
EtherCAT Master in real-time
The Kithara EtherCAT Master is internally based on a priority-based, preemptive real-time multi-tasking system. Through utilization of hardware parallelism by multiple CPU cores, it is possible to disseminate several real-time tasks to CPU cores. Thus, a high scalability of real-time processing up to extreme real-time at exclusively used CPU cores by the Dedicated Module is possible.
Independent EtherCAT Master
Automatic identification of EtherCAT topologies with XML files
Process data communication (cyclic I/O data exchange) in real-time
Short cycle time: up to 50 microseconds
Hot connect and cable redundancy
Based on Packet Module
Network interface from RealTek and Intel are supported
I/O terminals, servo inverter etc. of every manufacturers are supported (e.g. Beckhoff)
Modular structure of EtherCAT Masters: basis module + options
Process data communication (PDO)
Service date communication (SDO)
Mailbox communication
CANopen over EtherCAT (CoE)
Ethernet over EtherCAT (EoE)
File over EtherCAT (FoE)
Distributed Clock (DC)
EtherCAT PC Slave Module
Implementation of simple PCs as EtherCAT Slaves
Common
Features
Hardware Support
A typical EtherCAT networking solution is generally set up by installing specialized hardware, couplers and clamps without any actual graphical user interface, behind a PC-based master. The Kithara EtherCAT PC Slave Module now provides exactly this feature, allowing for a significantly higher degree of scalability. The option to utilize a PC, employing an EtherCAT interface, as a slave enables users the target-oriented and flexible conception, integration and customization of sophisticated automation processes.
Common API with EtherCAT Master and EtherCAT EAP
Process data and service data communication (PDO/SDO)
File transfer (FoE)
Creation of custom PDO mappings
SII (EEprom) data can be initialized to custom values (e.g. Vendor ID, Product ID, Revision)
Beckhoff – EtherCAT Slave devices
FC1100 - PCI EtherCAT Slave Card
FC1121 - PCIe EtherCAT Slave Card
CX5000 CCAT(Beckhoff CX50xx, CX20xx, CX51xx Embedded PCs)
ESD – EtherCAT Slave card
ECS-PCIe 1100 - PCIe EtherCAT Slave Card

This list always refers to the latest version of our software.
EtherCAT Automation Protocol
Real-time communication between all terminals within a network
The EtherCAT Automation Protocol allows for real-time communication between all terminals within a network, which achieves a whole new level of connectivity in the field of automation systems. This can be all PC-based controls, machines, testing rigs, conveyor belts, robots, facilities for quality assurance or MES (Manufacturing Execution Systems).
Transfer rate of e.g. 1000 Mbit/s or 10 Gbit/s
Process data and service data exchange (PDO/SDO), file transfer
application compatible with EtherCAT Master
Further features of the »RealTime Suite«
Ethernet communication in real-time via fast Ethernet (100 MBit/s) or gigabit Ethernet (1 GBit/s)
UDP and TCP communication in real-time
Hardware access to PCI boards or USB devices
Deployment of Windows programming interfaces for device communication (ReadFile, WriteFile, DeviceIoControl)
Arbitrary device names, e.g. for serial interfaces
Integration in Labview possible
Code execution on the kernel-level supported by C/C++ and Delphi
The software supports the following operating systems: Windows 8, Windows 7, Vista, Server 2003, XP, 2000 und NT
Your Benefits of Kithara EtherCAT Master
The EtherCAT Master is provided as a function library. Function extensions are possible at any time and modular. The developers can simply implement the EtherCAT Master in a quick way into their applications. Thus, programming languages like C/C++, Delphi or C# are directly supported and the developers can work in their ordinary programming environment. This prevents a time-consuming initial training as it is the case in complex soft SPS systems (e.g. The TwinCAT of Beckoff). Due to the provided function library the developers have a far more flexible option to perfect their application.
Our qualified Support-Team guarantees you the best possible service for integrating the software into your project and our development support assists you also in questions beyond the software!
Master Monitor for EtherCAT
The Master Monitor for EtherCAT is a graphical Windows application for visualization and management of EtherCAT topologies and already included in the basis module of the EtherCAT Master. It also serves as an EtherCAT configurator. It is possible to save the identified structure of the connected slave devices in a special XML file in order to prove the compliance automatically for eventual implemented structure. However, the file can be manually combined by single modules.
Press realeases of the EtherCAT Master can be read here.